According to experts, it is not too late to get braces. Today, adults account for nearly half of the orthodontic patients looking for an opportunity to get the perfect smile. Braces have evolved significantly over the last 15 years. These days, there are more cosmetical-friendly and lightweight options available. Many of the adults are looking for a great smile – they understand the difference a great smile makes in their personal lives and their professional lives. They recognize the payoff that is worth more than the expense and temporary inconvenience felt. The popular types include: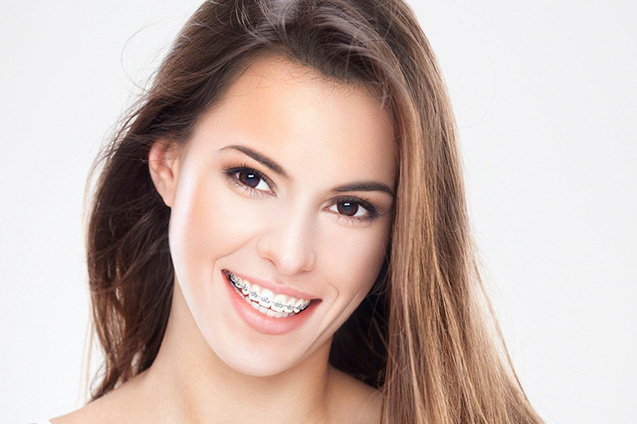 1. Metal braces
These are considered the least expensive ones fitted on adults. These are the stainless steel versions that have been in the market for many years now. The down side of wearing the metal braces is that they are visible. The metal ones feature a thin wire with rubber bands that help to exert pressure on the teeth, moving them in place. They often irritate the cheeks and gums, at first. With these types, you need to be careful about what you eat. You may need to avoid foodstuffs that stick readily to the braces. You may also need to avoid hard foods that have the capacity of dislodging them.
2. Ceramic braces
These types cost a little more. They blend well with the teeth, making them invisible. You have the opportunity of choosing between white metal ties and clear elastic ties to help hold them. However, although they do not stain, the ties stain particularly if you consume foods or drinks that stain the teeth, like coffee. The orthodontist will seek to change the ties every time they get to adjust them, usually every month. The ceramic ones are sensitive, breaking or chipping easily. Therefore, they need more maintenance, which often increases the cost and the treatment time.
3. Lingual braces
These braces have been designed in such a way they hide behind the teeth, remaining invisible. They cost more than the metal or ceramic braces. They need a skillful orthodontist to fix them. However, these types are not suitable for small teeth. Furthermore, they often get in the tongue's way, causing injuries and speech problems.
4. Invisalign braces
They cost a little more. They are invisible, making them suitable for adults who want to conceal them. They are also recommended for adults with significant teeth problems. These are custom-fitted aligners that are worn except when brushing your teeth or eating. The process entails using different teeth aligners every 2 weeks to help move the teeth to the desired location. The success of these types depends on how willing you are to wear them for not less than 20-hours daily.
For more information on this topic you can visit at our main site at sheheeandcallahan.com
Contact Us:
Shehee & Callahan Family Orthodontics
7552 Navarre Pkwy #60
Navarre, FL 32566
Call Us: (850) 939-3422
External Links:-
Early Treatment in Navarre,Florida
Adult Treatment in Navarre, Florida
Metal Braces Available Navarre, Florida
Orthodontist Treatment in Navarre, Florida
Teeth treatment in Navarre Florida
Orthodontic Appliances Available
Herbst Appliance in Navarre, Florida